The Best Park City Lodging Is Right Here—Town Lift Condominiums
Looking for the ultimate lodging in Park City, Utah? You're in luck—it's right here; you've found it! Congrats! Ask yourself: What does the best Park City condo look like? We'll show you Town Lift Condominiums. It's all about the three C's: convenience, class, and comfort. Your time is important, and you should be able to spend as much of it as possible on the slopes, not in transit. Town Lift Condominiums is located on historic Main Street in the heart of Old Town Park City, with skin-in, skin-out just steps from the door. Ready to start carving out turns or free-styling?  Your perfect ski vacation awaits and here is why . . .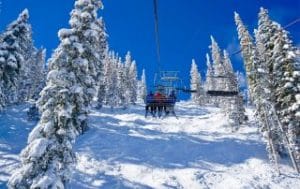 Location! Location! Location!
What can be better than to have Ski-in Ski-out access in the heart of Park City Main Street?  You've likely heard the phrase before, but now you're really going to understand just how important location is in regards to experiencing the perfect winter vacation. At Town Lift Condominiums, you will have immediate access to the best skiing in America, as you're only a quick, two minute walk from the slopes. You'll also discover that High West Distillery is literally next door! Still, you won't find a better, more relaxing, accommodating, or closer place to get a warm drink or a hot meal after spending all day on—or in (depending on your ski skills)—the snow. Better yet, you're only steps from the comfort of your own bed.
And that's just the beginning!
Your time is valuable. Vacations may not happen often, so when they do, you want to see and experience as much as possible—and not from a car. Staying at Town Lift Condominiums, you've successfully eliminated any need for transit. What does this mean, exactly? You can leave your vehicle safe and sound in the covered, underground parking area (included with your stay) and completely forget about the hassle and inconvenience of driving for the rest of your winter vacation. That's right, don't worry about tedious, time-wasting factors, such as finding parking, remembering your keys, packing and unpacking your ski equipment, or piling everyone back in the car. It doesn't get any easier than than!
Town Lift Condominiums truly offers the best location in Park City, Utah. Not only will you have instant  access to skiing, you'll also be within very close walking distance to amazing restaurants, shops, and nightlife. You deserve a carefree winter vacation . . . And now you can have one!
Your Home Away from Home
So, we've proven that the location of Town Lift Condominiums can't be beat, but what about the actual condo itself? The space where you and your friends or family will be staying? Simply put, this Park City condo is a perfect example of what happens when luxury meets style. It offers two bedrooms (enough room to sleep five), two bathrooms, and is fully equipped with high-tech amenities. Still not convinced? The condo also provides a range of other amenities, including a gas fireplace, built-in boot and mitten warmer, 4K HDTVs with state-of-the-art theatre audio systems, fully equipped kitchen with top of the line stainless steel appliances, and much more!
Because Town Lift Condominiums is centrally located, you can take advantage of the beautiful, breathtaking scene that is the quaint, historic Main Street by looking out the front windows of every room. Adding additional charm to your home away from home, the condo has distressed, Utah hickory floors, original oil paintings, and burnished oil-rubbed hardware. Further bonuses include:
24-Hour Security cameras

Washer/Dryer

Wireless, High-Speed Internet 

Elevator

And More! 
Welcome to your dream Park City winter vacation getaway! Unparalleled comfort and convenience awaits you . . . Are you ready?
Plan Your Stay Today!
If you don't take advantage of these one-of-a-kind Park City, Utah condos, someone else will! What more could you want or need when it comes to ski lodging? Remember, Town Lift Condominiums is all about the three C's: convenience, class, and comfort! That is what you deserve for your winter vacation, and that's exactly what you'll get! If you have questions or concerns, we'd love to hear from you! Simple click here to contact us. You matter and your vacation matters. Don't waste time, money, or energy at an inadequate location. Let us give you the winter vacation your need and deserve!
For a full list of amenities offered at Town Lift Condominiums, click here. To see several photographs of our incomparable, Park City, Utah lodging, click here.